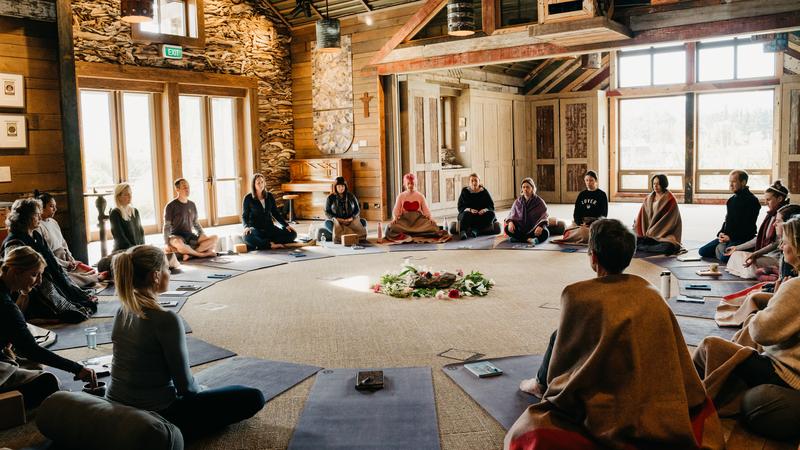 Sadhana for the Soul
Glenorchy, New Zealand | From $1799 per person twin-share
Find a new beginning.
Reconnect with yourself on this 4-night retreat at the South Island's stunning Camp Glenorchy. Find a sacred time to deepen your yoga practice and set personal routines to carry throughout your life – while exploring New Zealand's beautiful backyard.
What is Sādhana?
Sādhana means 'a daily spiritual practice,' and is found in anything and everything. From the way we eat, to the way we conduct our body, energy, and emotions. The thread of Sādhana will be woven throughout this unique retreat, with daily practices, meditation, journaling, intention-setting, and more – set by the beautiful serene waters of Lake Wakatipu. Take the time to create a healing routine of your own, that you can continue long after you've returned home.
Aimed at unifying body and mind towards a natural harmonious state of being, the Sādhana for the Soul retreat will help you align what's in your heart and mind with the things you do and say. All while exploring the beauty of one of the most breathtaking parts of New Zealand.
Retreat package includes:
● 4 nights eco-luxury accommodation*
● Return fixed time group airport transfers
● 3 x gourmet meals daily
● Morning Flow Yoga
● Evening Yin Yoga
● Yoga Nidra
● Daily Meditation
● 1 x yoga workshop
● Silent meditation walk
● 1 x 1/2 day hike on the Routeburn
● Day excursion to Queenstown
● Onsen Hot Pools experience
● Opening & closing ceremonies
*Private rooms starting at $2999.
Book online