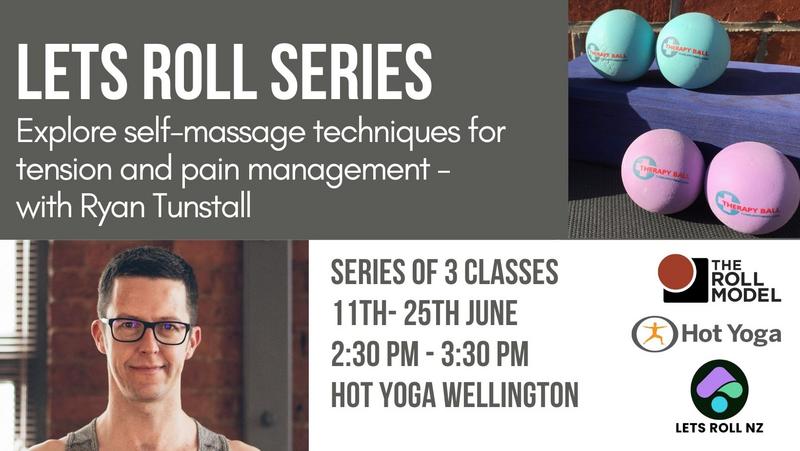 Lets roll series - Explore self-massage techniques for tension and pain management
with Ryan Tunstall
Featherston Street Studio | $95 (includes a set of therapy balls)
What is this about?
This series of 3 Saturday classes will awaken your body senses and heighten awareness of your own tension, pain and coordination. Ryan will be running a series of three self-care classes teaching the Roll Model® Method - a simple self-massage treatment using grippy rubber balls to help explore and reduce your aches and pains by rolling them out.
The Therapy Balls provide targeted self-massage trigger point therapy - we will use these balls and focused movement routines to help knead through layers of soft tissue; skin, fascia and muscle.
The Roll Model® Method was created by Jill Miller. It brings together the study of anatomy and movement, forging links between fitness, yoga, massage and pain management. Ryan is New Zealand's only certified Roll Model® Method Practitioner.
What to bring?
Bring a yoga mat, a towel and a bottle of water. It may be easier to use the Therapy Balls over more fitted clothing. The room will be slightly heated/studio room temperature, but not as hot as in other Hot Yoga classes.
if you are a first time participant Therapy Balls will be provided to you in the first session for you to keep.
If you are a returning participant please bring your Therapy Balls to each session.
What if I've never done this before?
You don't need to have any prior experience with the Roll Model® method. The class will be instructed by Ryan. The sensation will be similar to a deep tissue massage techniques but self-guided – you're in control of your own pressure.
What if I can't make all sessions?
Currently this is running as a series cost only.
How do I book?
Register online or in studio.
Returning participants please email Marketing@hotyogawellington.co.nz
Book online