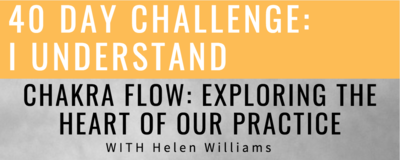 CHAKRA FLOW: EXPLORING THE HEART OF OUR PRACTICE
WITH Helen Williams
Wakefield Studio | $40
This is a workshop focusing on internal integration and physical embodiment of all of the main chakra. Through the class participants will explore the essence of each of the chakra by way of asana, pranayama, intention and meditation.
You will move for approximately 1.5 hours of moderate asana and spend the remainder in meditation and relaxation. There won't be any overly challenging asana or balance poses, this is a workshop encouraging internal integration and moving to trust your body and senses.
Please note: Though not an 'advanced' practice, it's recommended that you have familiarity with what a 'sun salute' or 'vinyasa' is for your enjoyment on the day, as you will be encouraged to 'turn down' your visual learning and lean into a different experience of asana. 
This workshop will be unheated.
Book online